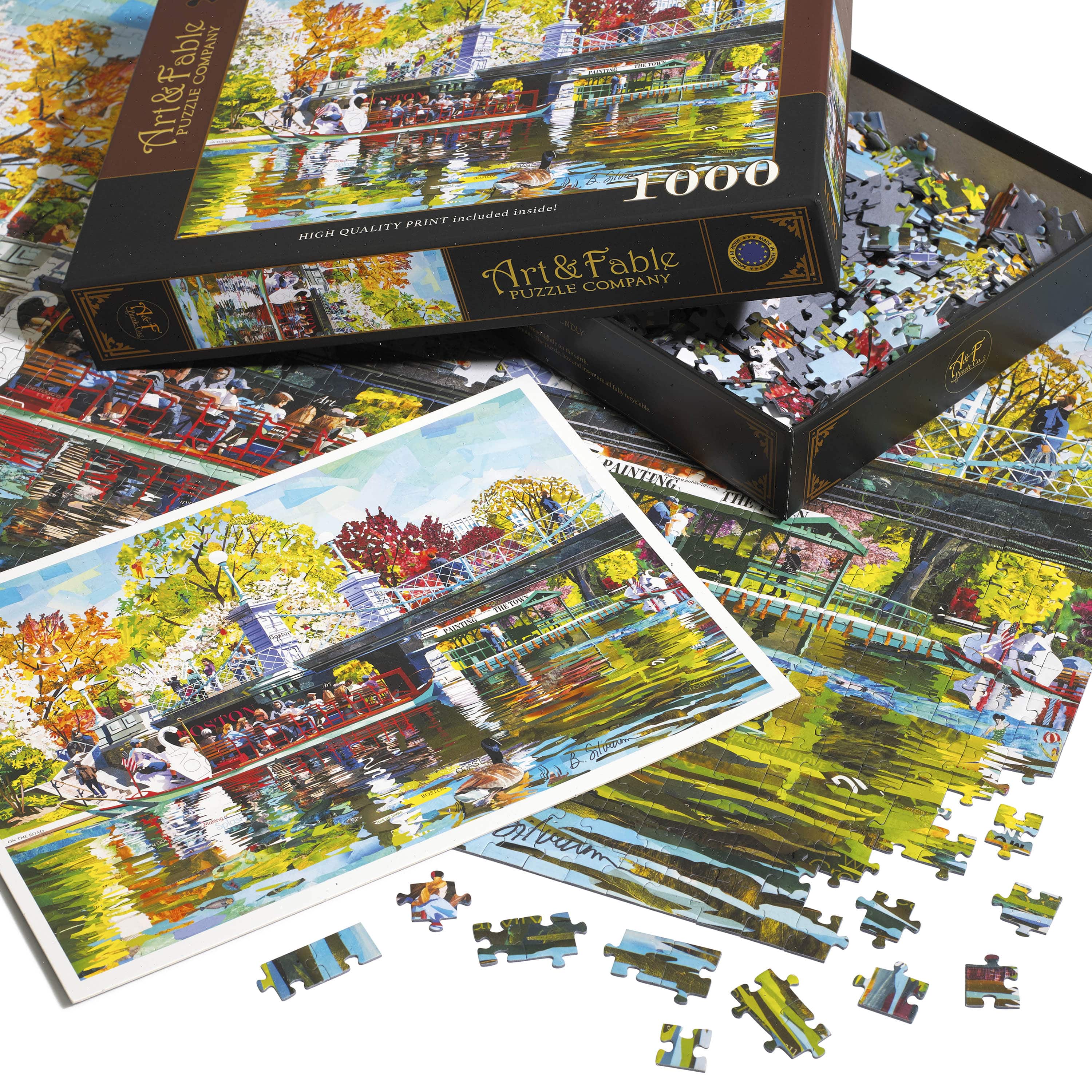 A Brief History of Jigsaw Puzzles: An Introduction to Art & Fable Fine Art Jigsaw Puzzles
Here at Art & Fable, we create premium jigsaw puzzles developed from a variety of stunning pieces of art. We are dedicated art enthusiasts who aim to provide everyone with access to beautiful fine artwork through the joy of jigsaw puzzles. This blog is a space for us to introduce thought-provoking information on puzzles, fine artwork, artists, and how our business has created an intersection of these fascinating elements. We're glad you're here, and are excited to explore the fine art of puzzles together!
Welcome to Fables, the Art & Fable Puzzle Company Blog!
Art & Fable was founded on the idea that visual art can be incorporated into the satisfying activity of puzzling. By producing high-quality puzzles, we are also creating a space for art and artists to be showcased and appreciated. Our cardboard jigsaw puzzles make interacting with fine art accessible and enjoyable to all. Through our business, we aim to shine light on artists both new and old, while also focusing on giving back to the community through working with charitable organizations.
We look forward to sharing our passion with you through this platform! Be sure to check back each week for exciting new content, as well as our shop page for our current puzzle selection.
A Brief History of Jigsaw Puzzles
Jigsaw puzzles have been constructed and utilized since the mid-18th century. Rather than the cardboard jigsaw puzzles we know today, they were often made from wood and cut using a saw. Starting from humble beginnings as a simple educational tool, jigsaw puzzles have since soared in popularity, becoming a worldwide industry with nearly 1.8 billion puzzles being sold each year!
Who Invented the Jigsaw Puzzle?
Jigsaw puzzles are thought to have been invented in 1760 by John Spilsbury, a British cartographer and engraver. Spilsbury used jigsaw puzzles as an educational medium to teach geography in 18th century London. By fixing a world map and a piece of wood together, and then carving out each country into individual pieces, he created the first jigsaw puzzle. These early puzzles were called "dissections", as they were seen as a dissection of a map, before adopting the name "jigsaw puzzle" around 1880. Spilsbury saw value in his creation and began creating puzzles based on different countries and regions of the world as a business venture. Early puzzles were used only by the wealthy, with some of the first puzzles even being used to teach royal children geography. Once puzzles began to catch on, they were used for other subjects as well, and included pictures that depicted nursery rhymes, plants and animals, and more!
What Were the Earliest Jigsaw Puzzles Made of?
The earliest jigsaw puzzles were made of wood, and cut using a marquetry saw. Mahogany was often the wood of choice for wealthy puzzle owners! Over 100 years later, they became associated with the word "jigsaw" after they began to be cut into pieces with a fretsaw. As fretsaws are unique from jigsaws, the name was actually a misnomer, as it was incorrectly applied. During this time wood was the preferred material as it was more sturdy, and profit margins were higher compared to other materials. Though originally viewed as lesser quality, cardboard was introduced in the late 1800's and eventually became the material of choice for jigsaw puzzles.
Puzzles & The Great Depression
Jigsaw puzzles saw a sharp rise in popularity during the 1930's, as they were a cheap and reusable form of entertainment during the Great Depression. Jigsaw puzzles were a great family activity for those that could not afford to go out or spend money on other forms of entertainment. Around this time, the die cut was introduced as a way to make puzzles more efficiently, making them more readily available and mass produced. Due to this new method of cutting, more complex puzzles began to be produced as well, making them more appealing to adults. Jigsaw puzzles were also used as a promotional product for brands, who created puzzles of their logo or products for customers to complete. The production and sales of wooden jigsaw puzzles declined after World War II, giving way to the current cardboard jigsaw puzzle.
The Modernization of the Jigsaw Puzzle
Post World War II, Tower Press, which was later acquired by Waddington's, became the leading puzzle manufacturer. Smaller puzzle companies also contributed to the growing industry with handcrafted artisanal style puzzles. 
Puzzles are still used in a variety of settings today, such as in schools as a tool for education, as well as a great form of entertainment for individuals and groups alike. Through the use of problem-solving skills, completing puzzles is seen as a great way to maintain an active and healthy brain function by helping to improve short-term memory and improving your visual-spatial reasoning. Puzzling engages both sides of your brain through logical and creative thinking, which helps to improve your attention span and ability to think critically. It's almost like a workout for your brain! 
Puzzling is a great activity to strengthen your skills at any stage of life, from children to seniors. Puzzles are used as a cognitive exercise in care facilities to help patients suffering from Alzheimer's. They are also used as a therapeutic tool when working with children with Autism, that can also help to develop fine motor skills and allow them to explore different textures through their sense of touch. Working on a puzzle can be a great way for anyone to relax and practice mindfulness by focusing on the single activity at hand. 
Jigsaw Puzzles Today
The jigsaw puzzle industry saw a surge in popularity over the Covid-19 pandemic in 2020 during the stay at home mandate. With the puzzle industry booming, while simultaneously experiencing labor shortages, there was even a puzzle shortage in many parts of the world, leaving many people scrambling for where to find puzzles! Jigsaw puzzles provided entertainment that was affordable and accessible from the home, which explains this similar trend that occurred during the Great Depression. With limited access to entertainment outside of the house, puzzles provided an activity that could bring families together and bring about a feeling of nostalgia.
Puzzles provide a temporary escape from reality, which during the pandemic was often stressful and overwhelming. Taking time to work on a jigsaw puzzle is a great way to relax yet be challenged, as well as escape screens and social media. Conversely, many people took to sharing or discussing puzzles on social media with friends and family who they may not have been able to have physical contact with over the periods of lockdown.
Puzzles can be incredibly captivating, and enable users to focus on an activity that utilizes both their brain and body through tactile skills. There are varying difficulty levels that come with design and piece number choices, such as 500 or 1,000 piece puzzles, to suit any age group or experience level. Different types of puzzles, from standard paperboard to 3D puzzles, allow users a different adventure with each new puzzle, and provide a feeling of satisfaction when finishing the piece. 
Art Puzzles
Similar to music or books, puzzles have genres that users can explore. Fine art jigsaw puzzles provide not only the typical puzzle experience, but also allow users to engage with interesting and thought-provoking pieces of art. These can include fine art from throughout the ages, such as work from classic painters like Picasso and Van Gough, as well as emerging modern-day artists. Small independently owned businesses, such as us here at Art & Fable, have been growing in number and creating unique puzzles with character and charm. Rather than looking at pieces from afar in a museum, art puzzles allow users to get up close and personal with art in their own home! They can develop an appreciation and deeper understanding for both the small details and the big picture. The increasingly popular art puzzles allow puzzle lovers to support artists and small businesses while enjoying the activity they love; what could be better!
Art & Fable Puzzles
The history of puzzles provides us an understanding of how the humble beginnings of puzzle making in the 18th century has turned into a booming industry and one of our favorite pastimes today. Here at Art & Fable, we are excited to share our passion for puzzling and provide you with beautiful high-quality puzzles. Be sure to check out our Facebook page and Instagram @artandfablepuzzles, and stay tuned for our next post!